Delivering Care to Patients: An Altoid Profile
Stephanie Curry is famous at Alto. No, she's not related to Steph Curry, she'll say right upfront, but Stephanie is known at work for her joyful, carefree singing that echoes through our Alto Pharmacy headquarters in San Francisco. She brightens our day. And among Alto's patients, Stephanie is beloved for her reliable, friendly service, delivering medications to their doorsteps — along with big, warm hugs.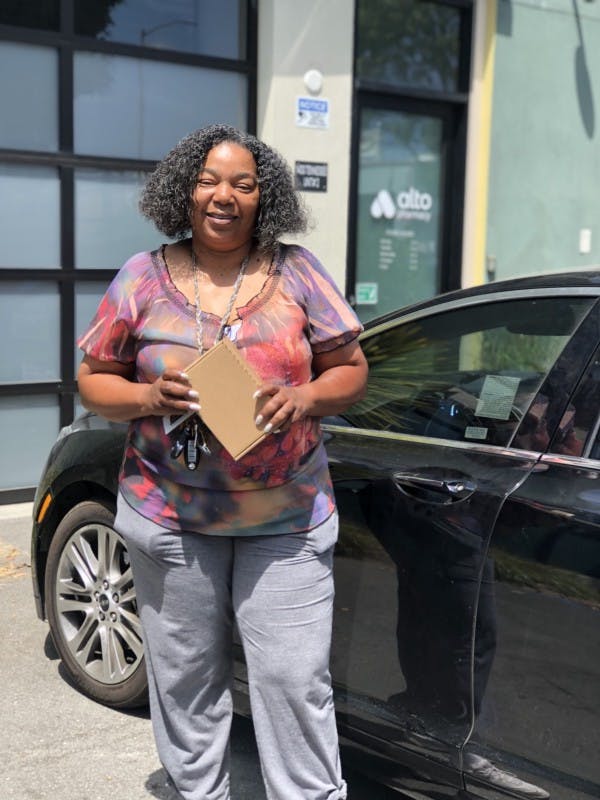 Q: What do you do at Alto and how did you learn about Alto?
A: I drive for Alto and deliver medications to patients' homes, six days a week. I've worked all my life from delivering newspapers when I was 11 to being a nursing assistant in home care centers and to driving for Uber. When I heard about Alto, that I could deliver medications to patients, I applied and got the job! I've been driving for Alto for almost two years and I love that it gives me space to do my thing and I get to see patients.
Q: Tell us about some of the patients that are most memorable to you?
A: There's a patient I've been delivering medications to for months, and usually it's a family member or caregiver who answers the door. I see the medical equipment so I figure the patient is ill or bed ridden. But then one day, I drive up to the house and I see this elderly woman, sitting on the porch. It's the patient and she's waiting for me! She told me that she hears my friendly voice every time I come and that she wanted to come out to meet me in person and tell me how much she appreciated me. She gave me a big hug and that's how I started to get to know her.
Editor's note: At Alto, we've heard from countless patients who have also been touched by Stephanie. Not only the patients, but often the patient's caregivers, children, and dogs look forward to Stephanie's Alto deliveries.
Q: Do you know all your patients by name?
A: I work the East Bay regularly so I get to know the roads, the houses and the patients pretty well. Whenever I see a patient, I always greet them by name, like "Hello, Miss Maria". No one taught me that — I just think it's natural really, the only way to communicate with one another. People already have so much going on, having to take medications — they don't want to feel like another number. So I want them to know that I know them. I love that this company is about dealing with people — it's personal, you know who you can talk is a live person, you can see their face.
Q: And what makes you memorable to patients?
A: My hugs. A lot of patients ask me for hugs, and I don't hesitate. Oh, and my car. Patients tell me that when they get a notification from Alto that their delivery is a few minutes away, they look out the window. They always know it's me when I step out of my shiny, black Lincoln car. I know it's not a typical car for a courier, but I love it. My husband bought it for me and he's the love of my life. We were married 31 years and we have three beautiful children together. So I drive that car wherever I go.
Q: What do you do for fun, outside of Alto?
A: I love to play Bingo  —  I'm the Bingo Queen, I just came back from Vegas. I also love to cook. I used to run a restaurant in Sacramento and my family raves about my Gumbo. I just live, enjoy life, because as I tell my friends and family, you can't take nothing with you when you leave!