How Alto Lowers the Cost of Fertility Treatment Through Better Medication Management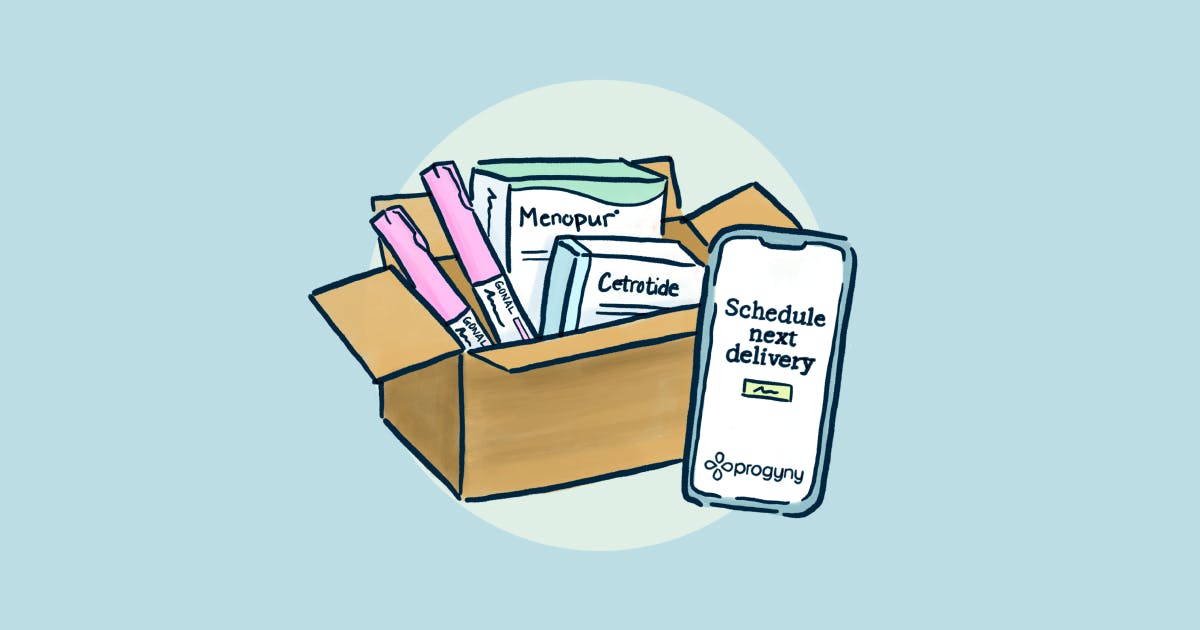 While fertility treatments like in vitro fertilization (IVF) have become an increasingly common path to parenthood, helping millions of individuals conceive throughout the past four decades, they remain a significant financial investment.
Fertility medications used to support egg production, retrievals, and implantations frequently factor heavily into the overall cost of treatment. An average IVF cycle costs between $10,000 and $15,000, with medications an additional $5,000 or more depending on factors like a patient's age and health history and a clinic's treatment approach. Unfortunately, a portion of these medications often go unused, as many fertility treatment plans involve last-minute medication changes unsuited for the traditional retail pharmacy model.
As part of our commitment to your financial well-being, we offer a medication management experience that reduces fertility medication waste to lower the cost of treatment, developed in collaboration with Progyny. Take a closer look at our approach.
The role of medications in IVF
IVF is a process in which eggs and sperm are fertilized and then placed into the uterus with the potential outcome of a pregnancy. Multiple medications are used on a precisely timed schedule to grow follicles — fluid-filled sacs in the ovaries that potentially contain an egg — retrieve eggs, and, finally, implant a fertilized egg into the uterus. 
Here's a snapshot of a typical IVF medication schedule:
Days 1-4: stimulation medications such as Gonal-f®, Follistim®, Menopur®, or Low-Dose hCG to stimulate egg production, so that you produce multiple follicles
Days 5-10: continuation of stimulation medications and introduction of antagonists such as Fyremadel™ (ganirelix acetate) and Cetrotide® to prevent premature ovulation
Days 10+: trigger shots of leuprolide acetate, Ovidrel®, and/or Novarel®/Pregnyl® to stimulate final growth spurt and ovulation
After transfer: estrogen and progesterone to support successful implantation of the embryo
Fertility medications are complex, with nightly dosages dependent upon hormone levels measured through bloodwork and ultrasounds. Not only do medication protocols vary from one individual to another, they are typically adjusted throughout the course of a cycle as hormones fluctuate.
Unused medication during fertility treatment
To prevent any missed doses, providers typically prescribe all medications that could be needed in bulk at the beginning of fertility treatment. However, dosages often decrease once a cycle is underway based on a provider's discretion, ultrasounds, and bloodwork.
At traditional pharmacies, patients undergoing fertility treatment might end up paying for unused medication, as all potential medications are filled upfront. This contributes to the $5.4 billion epidemic of medication waste in the U.S. — one that is particularly acute in fertility, leading some individuals to buy and sell excess medication to each other on social media sites.
Our approach to fertility medication management
Alto has partnered with fertility benefits manager Progyny on an algorithm-powered, app-based medication management experience that reduces unneeded fertility medications while protecting the integrity of time-sensitive and personalized treatment plans.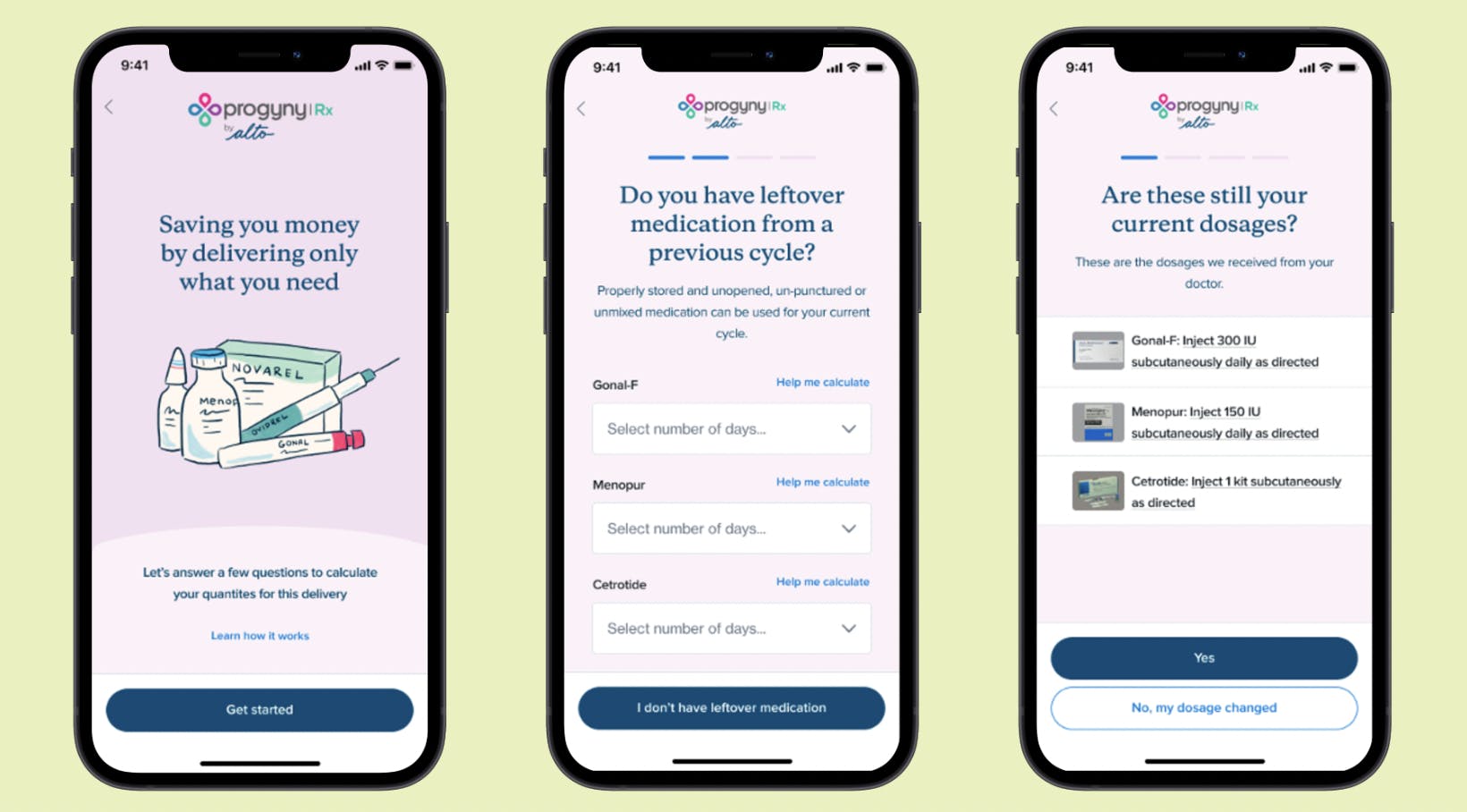 First, we collect fertility cycle information through the Alto app and run the data through the Progyny algorithm to determine exactly what medication volumes are needed for the next phase of treatment. We then prepare a custom order for just the medications that are immediately needed, which are then delivered directly to your doorstep by our courier team.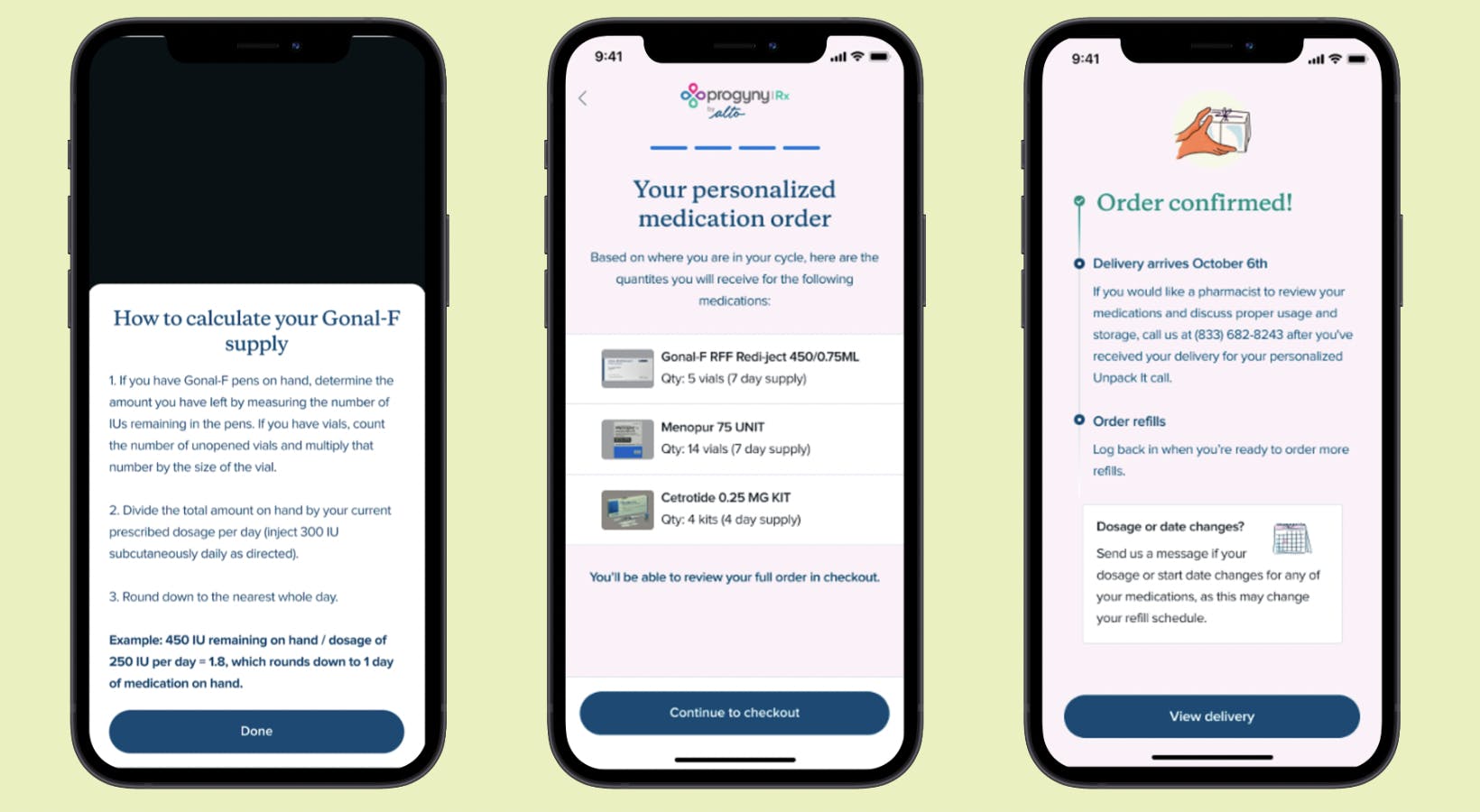 You will receive multiple deliveries throughout the course of your cycle, determined by your specific dosing, trigger schedule and other inputs from your clinical team. This approach allows you to manage your medications as your IVF cycle progresses, giving you more control over the total amount of medication that you fill.
Additional financial resources for fertility medications
Alto is committed to helping you save as much as possible on your fertility medications. In addition to our personalized medication management approach, we'll automatically search for savings and connect you with programs that require you to apply directly, including patient assistance programs from fertility medication manufacturers.
If Alto is your fertility pharmacy, your fertility medication protocol likely includes medications manufactured by EMD Serono or Ferring Pharmaceuticals. EMD has several programs that lower the cost of fertility treatment, including the Compassionate Care program, which offers income-based assistance for fertility medications that aren't covered by insurance, and special opportunities for military veterans and cancer survivors.
Ferring Pharmaceuticals also offers financial assistance programs to offset the cost of fertility medications, including the HeartTomorrow program for individuals who elect to freeze their eggs, and special opportunities for military veterans and cancer patients.
Read Managing the Costs of Fertility Treatment for more on Alto's financial support for fertility treatment and medications.
Choose a flexible and reliable pharmacy partner
Fertility treatment can be challenging, but we'll be with you every step of the way. To ensure that your treatment plan is followed correctly, we offer fast, reliable delivery of your medications and fertility resources like personalized injection guide videos and one-on-one consultations with fertility-trained pharmacists.
In addition to local service offerings at our brick-and-mortar locations, we're serving more patients throughout the United States through our mail order service. We offer free FedEx next-day delivery of all fertility medications and supplies to patients served via mail order.
Interested in learning more about how Alto can support your fertility treatment? Request a price quote online or reach out through secure in-app messaging or by phone at 1-800-874-5881.
This content is not intended to be a substitute for professional medical advice, diagnosis, or treatment. Always seek the advice of your physician or another qualified health provider with any questions you may have regarding a medical condition.
All third party trademarks (including logos and icons) referenced by Alto Pharmacy remain the property of their respective owners. Unless specifically identified as such, Alto's use of third party trademarks does not indicate any relationship, sponsorship or endorsement between Alto and the owners of these trademarks.