How Alto Pharmacy Is Using Tech to Put Patients First
Above all, Alto Pharmacy strives to fulfill medicine's true purpose — to improve quality of life — for everyone who needs it. In working toward that mission, we're building technology to disrupt the healthcare industry, which has long deprioritized the patient experience. At Alto, we're putting patients first with free, same-day medication delivery; always-there, cost-saving support from our dedicated pharmacists and care team; and a cheerful online interface where people can conveniently manage all their prescriptions. Here's how we make it work.
Alto at a Glance
At the highest level, Alto is a pharmacy. But we are not a traditional pharmacy. Instead of operating dozens of small-volume distribution sites across a metro area like chain pharmacies, we own and operate high-volume pharmacy fulfillment centers staffed by small, highly efficient teams supported by proprietary technology. We have one fulfillment center per metro area that we serve, including San Francisco, Los Angeles, and Orange County, and a headquarters in Denver, where we are centralizing and growing our care operations team. Out of our fulfillment centers, we process and fill prescription orders and hand deliver them directly to patients' homes or offices. About seven million people fall within the delivery zone of our San Francisco fulfillment center alone. In Southern California, our delivery radius covers another 20 million people.
Our model is made possible thanks to three Alto products:
With the easy-to-use Alto Patient app, people can consult a friendly and knowledgeable Alto pharmacist, schedule deliveries, and otherwise manage and learn more about their medications. Through the Alto Patient app, our care team also works with people to find them ways to save on their prescription costs.
Alto Connect is our physician-facing product that allows physicians to easily manage the pharmacy needs of their patients that use Alto. The beauty of Alto Connect is that it simplifies the workflows of the medical practices that use it. The typical clinic spends an average of 20 hours of administrative time per physician, per week, just on pharmacy workflows. In relieving practices of many of these administrative tasks, Alto reduces the likelihood of human error and redirects physicians' time and energies back to their patients. In turn, Alto helps ensure treatment adherence and a better overall healthcare experience, making it a win-win for physicians and patients alike.
Wunderbar is the internal technology our pharmacists and care teams use to manage their workflows. It also controls the robots that fill every prescription order. Wunderbar was built and continues to be improved in house, giving us a strong foundation to grow and scale.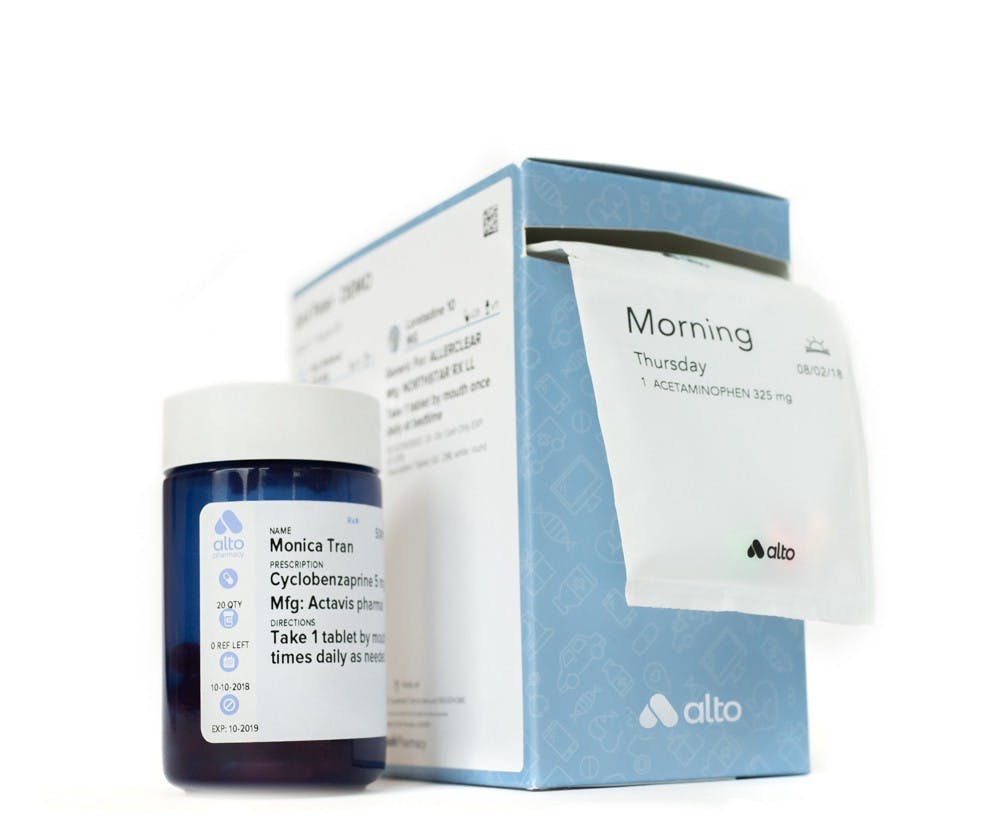 A Silicon Valley Origin Story
My co-founder, Matt Gamache-Asselin, and I came up with the idea for Alto in 2015, when we were working as software engineers at Parse, a Facebook-owned company. By then, our years in Silicon Valley had left us jaded and disillusioned with a tech industry that had lost sight of what really matters. We watched companies pour their resources into addressing the not-so-meaningful problems of the 1% while the broader population went underserved by many of the technological innovations being developed. We wanted to use our time, energy, and experience in consumer products to build something with the potential to have tangible, positive impact on the lives of all people. That led us first to healthcare — a big, broken industry with a terrible reputation — and then, more specifically, to pharmacy.
Our research revealed that no pharmacy incumbents think of themselves as consumer product companies. Unlike the Facebooks of the world, which are constantly optimizing how people use their products, pharmacy incumbents deprioritize it. We saw that gap as an opportunity to use our technical expertise to bring a people-focused mindset to the industry.
But First, a Little R&D
Back then, neither Matt nor I had any pharmacy experience. So, we left our jobs and dove in headfirst. After raising some capital, we purchased and ran a mom-and-pop operation, A-G Pharmacy, that had been serving San Francisco's Mission District for more than 50 years.
We learned by fire how pharmacies work (and don't). Soon enough, it became clear to us that despite caring about their patients, the A-G team wasn't able to give them the best possible experience because they didn't have the right tools. They were using antiquated software that required clumsy, inefficient work-arounds like relying on analog typewriters to create prescription labels. Because they didn't have a streamlined operation, patients didn't receive a streamlined experience.
We further discovered that technology wasn't connecting the right stakeholders across the industry either. Pharmacy transactions require coordination between the physicians choosing the medication, the insurance companies paying for the medication, the pharmacies filling the orders, and the patients ultimately using the medications. The industry standard has been to conduct that coordination by fax and phone. That makes coordination slow, disjointed, and prone to things falling through the cracks. Patients take the brunt of those issues.
It became clear to us that Alto's software needed to deeply integrate with and connect the disparate systems that stakeholders use. We also wanted to give stakeholders tools to solve other workflow issues not being addressed by their existing systems. And so Alto's suite of products came to be.
Why It Works
A single Alto fulfillment center can serve as many people as 400 chain pharmacy locations, and we do it with a much smaller team thanks to our proprietary technology. That saves our company resources that we reinvest in the Alto experience. By way of example, we've developed specialized expertise in managing the coordination of complex therapeutics like fertility treatment, psychiatry, dermatology, and HIV prevention and care. The efficiencies we've uncovered make lifesaving and life-improving treatments available to people who might otherwise not have access to them.
The result is a system of products and processes that have demonstrated utility for tens of thousands of people and counting. Alto isn't just convenient; by keeping people well informed about their prescription medications, Alto helps them make the best possible healthcare decisions for themselves and their families. But we're not stopping there. Alto is poised for growth, and in the coming months and years, we will be rapidly adding to our team to help us build the technology to continue to solve pharmacy's deep operational issues at scale.
Learn more about our vision, growth trajectory, and the Alto engineering team that makes it all possible.
Editor's Note: This post was updated on November 8, 2021, to reflect the rebrand of AltoMD to Alto Connect.