What to Consider When Choosing Your Limited Distribution Drug Partner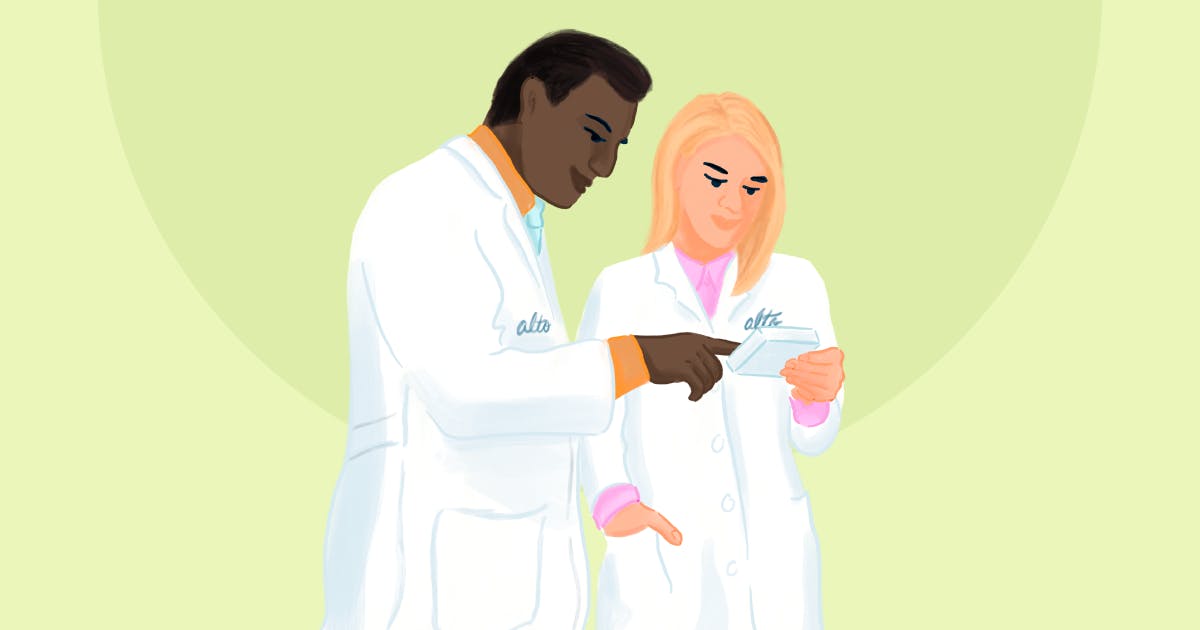 A great pharmacy is so much more than a place where patients fill their prescriptions — it's a partner in their care. The quality of a pharmacy is especially important for specialty medications, which typically include additional considerations like cost, storage requirements, administration, side effects, and more.
There's no better judge of pharmacy care than the patients themselves. Alto is an industry leader with an NPS score of 85, positioning patients and caregivers to regard your medication in the highest possible light.
Here's what makes a great patient experience at a specialty pharmacy, and how Alto offers support for specialty medications at every step.
Intake and Billing
It can be time-consuming and stressful for a patient to get started with any type of medication, from getting that medication covered by insurance to searching for savings opportunities. With limited distribution drugs in particular, there are usually many steps between getting a prescription from a provider and actually beginning treatment, as these medications often require a prior authorization for insurance coverage. And since they are typically more expensive, thorough research into medication cost savings is essential from the standpoint of both a patient's physical and financial wellness.
Your specialty pharmacy partner should offer the support patients need to access their medications as quickly and affordably as possible. Alto supports the prior authorization process, keeping both patients and providers informed at every step. And with Alto Connect — our free pharmacy communications portal for providers — it's fast and easy for clinical teams to collaborate with our team on administrative work as needed.
We also conduct price investigations to help patients save on each prescription through manufacturer coupons, assistance programs, and other resources.
Onboarding and Delivery
Once a medication has been approved by insurance, there shouldn't be any additional barriers to receiving it. Not only should it be as simple as possible to fill a prescription and place a delivery, patients should be able to trust that their medication will arrive on time, and in the right condition.
Alto's easy patient onboarding experience features proactive multichannel communication. We send patients a welcome text within 60 minutes of receiving their prescription to help them schedule their first delivery. (Those with a landline will get a call.) And our team is available to answer any questions via in-app messaging or phone.
Our same-day delivery service allows for quick and easy medication access seven days a week, and in-house couriers guarantee reliability and quality. We also offer a free medication bundling service, so those who take multiple medications have the convenience of one easy delivery. And patients are never left wondering where their medication is — the Alto app offers simple and accurate delivery tracking.
Additionally, we use special packaging to ensure that temperature-controlled medications are always stored appropriately before they reach a patient, with clear instructions about safe storage at home. Those who wish to pick up their medication can always visit our pharmacy in person.
Follow-Up and Education
Ongoing support with care and patient education is extremely important with specialty medications and limited distribution drugs, which typically require patients to make an ongoing commitment to their health and wellness. Treatment often includes routine testing, clinical monitoring, and side effect management to ensure proper drug utilization and maximize adherence.
So that patients can follow their treatment plan as directed by their doctor, your specialty pharmacy should have robust clinical expertise in specific conditions. It should also have a high-touch model that makes it as easy as possible for patients to benefit from that expertise.
At Alto, patient education and care isn't a nice-to-have — it's a must. To ensure that our pharmacists can actively participate in patient health journeys, we have a team of medication therapy management pharmacists who focus entirely on disease state education and support for chronic conditions.
These pharmacists regularly contact patients who take multiple medications or specialty medications to review their regimen by phone. During these calls, our pharmacists ensure that patients understand the purpose of each medication they're taking and are staying on track with necessary testing.
Coupled with medication management tools like auto refills and medication bundling, our disease state education keeps patients coming back to Alto month after month, improving adherence for the long term.
Choose Alto Pharmacy for your limited distribution network
Alto's end-to-end dispensing model is specifically built for specialty and specialty lite products. To learn more about partnering with us, reach out to partnerships@alto.com.
This content is not intended to be a substitute for professional medical advice, diagnosis, or treatment. Always seek the advice of your physician or another qualified health provider with any questions you may have regarding a medical condition.