A Guide to PrEP Affordability Resources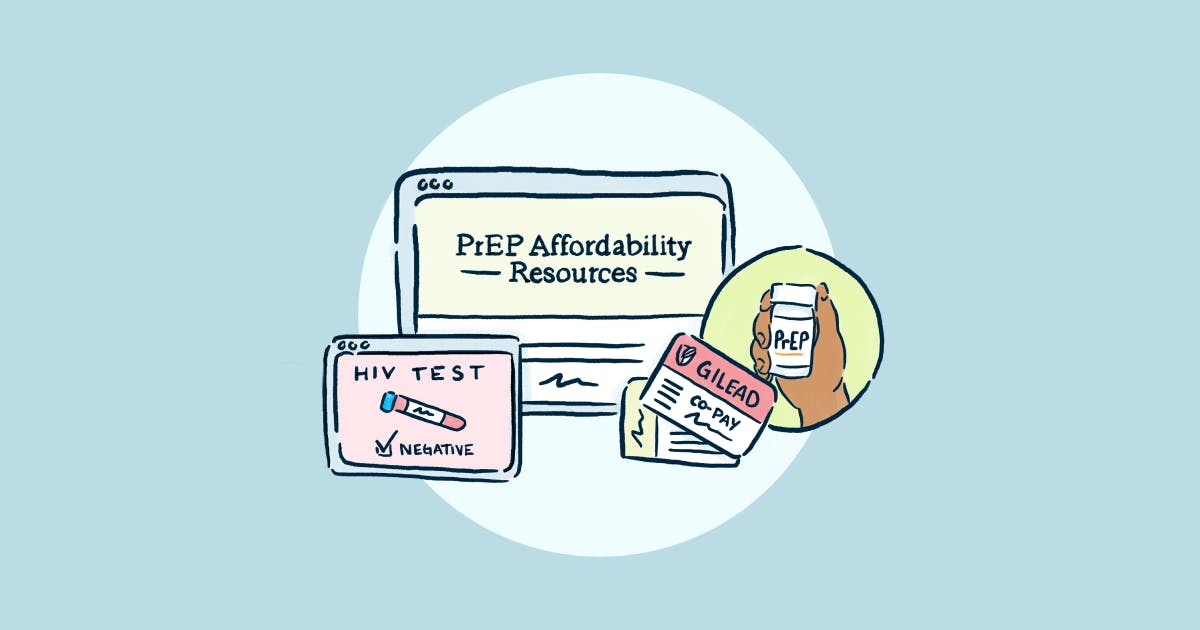 The HIV prevention medication PrEP, or pre-exposure prophylaxis, is highly effective when taken as prescribed every day, lowering the risk of sexual transmission and intravenous drug transmission by 99% and 74%, respectively.* Cost is often a barrier to beginning treatment, but thanks to financial resources and expanded insurance coverage, the medication continues to become more affordable.
It can be difficult to navigate the various forms of assistance and determine what you may be eligible for, as well as to understand what insurance providers are legally required to cover. To help, we've compiled an overview of PrEP affordability resources for all insurance statuses.
*Effectiveness rates are for oral PrEP. Injectable PrEP is another form of effective HIV prevention.
If you have insurance
The Affordable Care Act requires that most private insurance plans and state Medicaid programs cover at least one of the available PrEP options. (There are two FDA-approved brand-name oral medications for PrEP, Truvada® and Descovy®, and a generic option for Truvada called emtricitabine/tenofovir disoproxil fumarate.) This means that, generally speaking, many of those with insurance cannot be charged for PrEP or related medical services, including follow-up doctor's appointments and testing.
However, since the law only requires that plans cover at least one PrEP option without copays or deductibles, additional steps may be required to get insurance coverage of the version your doctor has prescribed. While they are both effective at preventing HIV, Truvada and Descovy are not identical, and there are cases when one option is a better fit than the other for an individual's health needs. In such cases, coverage of the preferred version would require an additional approval process called a prior authorization. Alto can coordinate with your provider to support this process and prevent delays in treatment.
If you still have a copay, there are resources to help you manage the costs of PrEP. Your options depend on whether you have private or government-based insurance.
Additional assistance for those with private insurance coverage
Gilead, the manufacturer of Truvada, offers a copay coupon card for eligible individuals with private insurance.
The Patient Advocate Foundation offers copay assistance for PrEP and related medical services to qualifying individuals. Eligibility is income-based and open to a variety of insurance plans.
Additional assistance for those with government insurance
Many states have programs to help individuals with Medicare access PrEP and related medical services at little to no cost. For a closer look at these programs, read What to Know About State-Funded PrEP-DAP Programs.
The Patient Advocate Foundation offers copay assistance for PrEP and related medical services to qualifying individuals. Eligibility is income-based and open to a variety of insurance plans.
If you do not have insurance
There are programs to help those without insurance access PrEP and related medical services at little to no cost.
Gilead offers the Advancing Access® Patient Assistance Program to help qualifying individuals without insurance access PrEP free of charge. Eligibility is income-based. Learn more about the application process here.
Many of the state-funded patient assistance programs include support for those without insurance.
The Ready, Set, PrEP program offers the medication free of charge to qualifying individuals without insurance. All are welcome to apply regardless of income status. Learn more about application details here.
Getting started with PrEP
If you think PrEP may be right for you, your doctor can write you a prescription. Negative HIV test results are required to begin taking the medication. Additionally, ongoing medical care — including routine tests for HIV and other sexually transmitted infections (STIs) — is required to continue treatment.
If you do not have a provider or are unable to get a prescription from your doctor, the following resources can connect you with a provider who will prescribe PrEP for you:
Alto can help you navigate HIV prevention medication
Our pharmacists have deep expertise in HIV treatment and prevention and can help you get started with oral PrEP and continue treatment. We're available to answer any questions you may have between your follow-up appointments.
We can also coordinate with your doctor and your insurance provider to ensure that you're receiving the best PrEP option for your needs at the best price we can find.
To learn more, reach out any time via in-app messaging.
This content is not intended to be a substitute for professional medical advice, diagnosis, or treatment. Always seek the advice of your physician or another qualified health provider with any questions you may have regarding a medical condition.
All third party trademarks (including logos and icons) referenced by Alto Pharmacy remain the property of their respective owners. Unless specifically identified as such, Alto's use of third party trademarks does not indicate any relationship, sponsorship or endorsement between Alto and the owners of these trademarks.