Alto Pharmacy's Product Controls for Coupons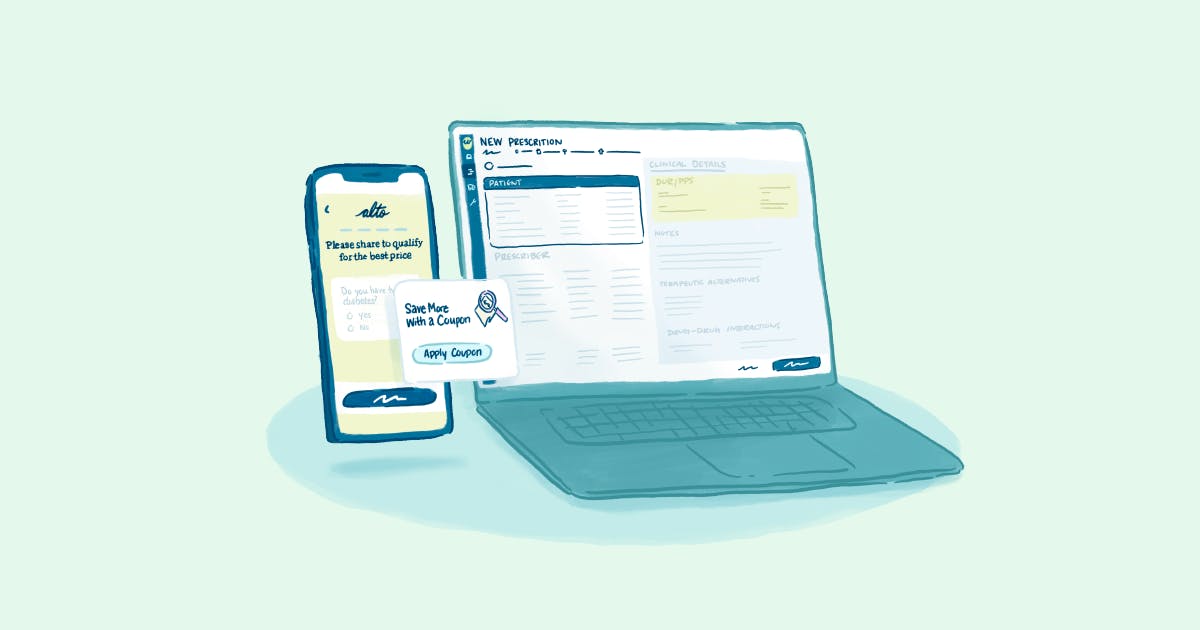 At Alto Pharmacy, a patient's financial wellness is of the utmost importance. We understand that cost is one of the most common barriers to medication access, and we go above and beyond to connect patients with any savings opportunities that they may qualify for. 
At the same time, as a specialty pharmacy, we have a responsibility to protect the integrity of assistance programs and ensure that only eligible patients benefit from these resources. Our integrated technology stack provides the controls needed to restrict savings access to qualifying patients. Take a look.
Our technology stack
The two components of Alto's technology stack are both integral to our coupon controls.
Our proprietary pharmacy management software, Wunderbar — through which more than 80% of our prescriptions are automatically billed by algorithms — gives us both control and flexibility, with the ability to set custom workflows and requirements.
Our patient app — which the majority of Alto patients use for intake, medication ordering, and delivery scheduling — integrates with Wunderbar. With many areas for patient input, including coupon sign-ups, the app allows us to easily provide data to partners and further supports our controls.
Multiple guardrails for controlling coupon use
Our robust technology platform gives us multiple ways to ensure that coupons are applied to those who are eligible.
By diagnosis code
Providers often include ICD-10 diagnosis codes on prescriptions to aid in prior authorizations and coupon use. The provided information is entered into Wunderbar during our automated intake process. Our billing controls can limit coupon use to a specific diagnosis code if necessary, allowing for proper distribution of a medication. 
By patient input
If a provider did not include the necessary diagnosis code for coupon verification, the patient can verify their diagnosis through the app. Our tech capabilities allow us to create pop-ups or notifications as needed for patient input. This patient attestation can be customized for different medication coupon scenarios and reported outcomes.
Additional guardrails
With a flexible tech stack, we can easily create additional workflows or automations to further regulate savings applications. These are some of the filters we can use:
Geography
Clinic
Providers, based on NPI list
Age
Payer type
Robust data to share with partners
Since we use proprietary software, we're not only able to ensure appropriate application of savings opportunities — we have so much available data about coupon use to share with partners like you.
We can provide NDC and patient-level insights, including coupon application, the exact amount of money saved, and how many fills were delivered. These data insights could help develop market access strategies by monitoring gross to net gaps and identifying the opportunities for copay accumulators and maximizers.
Choose Alto Pharmacy for your limited distribution network
Alto's end-to-end dispensing model is specifically built for specialty and specialty lite products. To learn more about partnering with us, reach out to partnerships@alto.com.
This content is not intended to be a substitute for professional medical advice, diagnosis, or treatment. Always seek the advice of your physician or another qualified health provider with any questions you may have regarding a medical condition.