Frequently Asked Questions About Generic Medications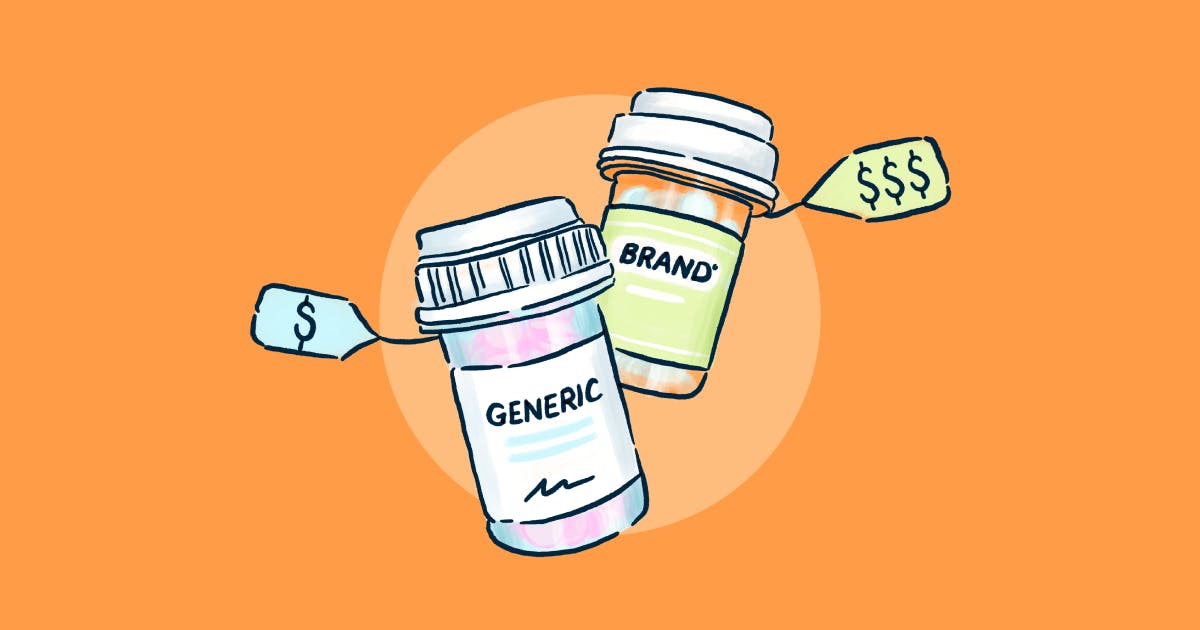 Generic medications, which can cost an average of 80-85% less than their brand-name counterparts, have made treatment more accessible for many, improving medication adherence and health outcomes. They currently account for 90% of all prescription medications dispensed in the United States.
Despite the extensive use and effectiveness of generic medications, they are often a source of confusion. To help demystify how these medications work — and how they differ from branded options — we've compiled answers to commonly asked questions.
What is a generic medication?
A generic medication has the same active-ingredient formula — and the same therapeutic benefits — as an already marketed brand-name equivalent, typically for a much lower cost. It can be considered an equal substitute for its branded version.
There are generic options for both over-the-counter and prescription medications. For example, ibuprofen is the generic name for Advil® and Motrin®, and acetaminophen is the generic name for Tylenol®. 
Are there any differences between generic and brand-name medications?
In order to become available for use, a generic medication must undergo a rigorous approval process from the U.S. Food and Drug Administration (FDA). Generic medication manufacturers must demonstrate that their product is equivalent to the brand version in several key ways:
It contains the same active ingredient — the substance in a medication formula directly responsible for that medication's clinical benefits
It has the same strength, dosage form, and administration method
It has demonstrated the same safety
It is produced under the same standards
Given these similarities, a generic will not produce different side effects than its branded counterpart.   
A generic medication can differ from its brand-name counterpart in ways that do not affect its safety or effectiveness. This includes differences in appearance, such as shape, size, and color, as well as inactive ingredients, like binding materials, dyes, and preservatives. In fact, given trademark and branding laws, a generic has to look at least slightly different from the branded option.
If a generic has been approved, the FDA has determined its inactive ingredients are safe. However, there is the possibility that you are sensitive or allergic to an inactive ingredient contained in one version but not the other. 
Why do generic medications cost less than brand-name medications?
A common misconception about generic versions of medication is that their lower cost means that they don't meet the same standards as their brand-name equivalents. There are two main reasons why generic medications are more affordable, and they have nothing to do with quality.
The cost of developing a new medication and then bringing it to market is very high. Manufacturers of an original brand-name medication have to spend millions of dollars on clinical trials and marketing. Companies making generics don't have to go through the same process and can charge much less for their medications as a result.
Secondly, generics create marketplace competition, further driving down medication costs. This is especially true when multiple generic options have entered the market.
Does every brand-name medication have a generic equivalent?
No. A generic medication cannot be produced until the patent on the original brand-name option expires. The current term of a medication patent is 20 years. Periods of market exclusivity and the testing and approval process also factor into the timeline for developing a generic.
To find out if there is a generic option for your medication, check with your pharmacist or search the FDA's catalog of approved medications.
Will my insurance cover both versions of a medication?
Insurance coverage varies by plan, but in general, many companies offer better coverage of generic medications due to their lower cost. Some plans don't cover branded options unless there is no generic equivalent. Always verify the details of your insurance coverage before filling a prescription.
Can a pharmacist substitute a generic for a brand-name medication?
In most states, pharmacists are allowed to automatically substitute a generic for a brand-name medication when filling your prescription unless your doctor has instructed them not to.
There are some exceptions, however. Some medications have a narrow therapeutic window, which means that they require careful dosing and often frequent monitoring. (They may be referred to as narrow therapeutic index (NTI) drugs.) Some people are more sensitive to the differences between generic and brand-name NTIs than others. For this reason, a pharmacist will often consult with a provider before making a substitution for one of these medications.
If I started taking a brand-name medication, can I switch to the generic version?
Generally speaking, yes — since generics are bioequivalent to their branded counterparts, with the same safety, quality, and effectiveness, you can easily switch between versions. However, NTIs may require additional consideration. Your provider or pharmacist can help clarify any questions or concerns you may have about switching to a generic.
Questions about generic medications? Ask away!
As your pharmacy partner, we're here to give you all the information you need to feel confident taking your medication. If you have questions about generic options, side effects, or anything else related to your treatment, reach out through in-app messaging.
This content is not intended to be a substitute for professional medical advice, diagnosis, or treatment. Always seek the advice of your physician or another qualified health provider with any questions you may have regarding a medical condition.
All third party trademarks (including logos and icons) referenced by Alto Pharmacy remain the property of their respective owners. Unless specifically identified as such, Alto's use of third party trademarks does not indicate any relationship, sponsorship or endorsement between Alto and the owners of these trademarks.