What a USPSTF "A" Recommendation Means for PrEP Access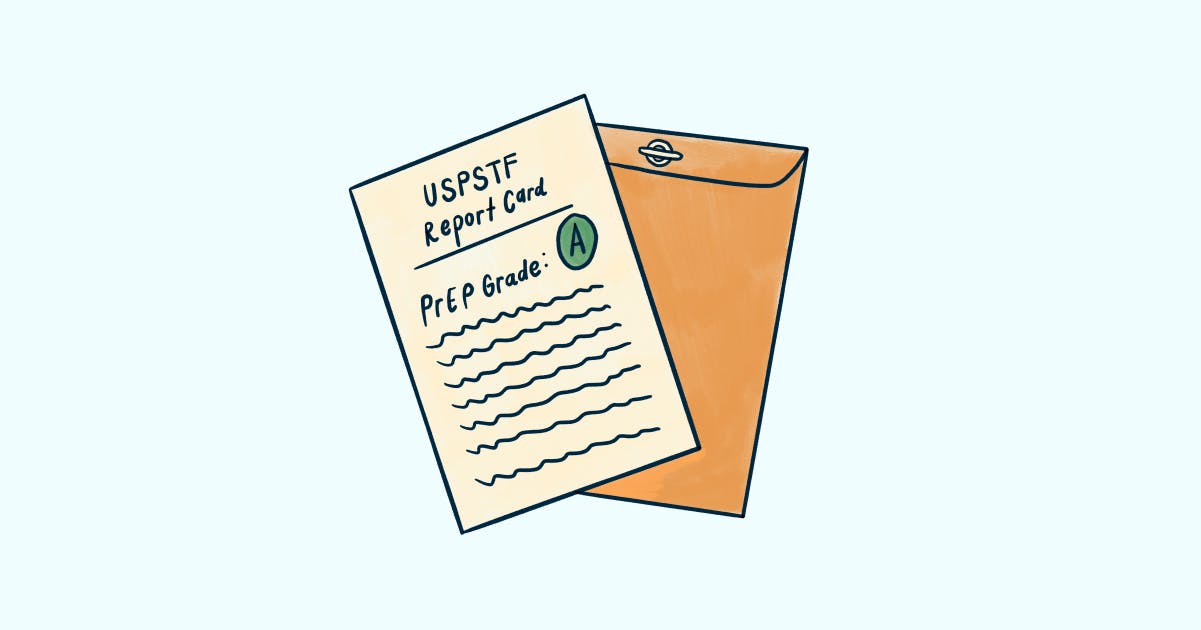 With a Grade A recommendation from the US Preventive Services Task Force (USPSTF), PrEP — an HIV prevention medication that can lower risk of sexual transmission by 99% when taken daily — is now more accessible than ever. Under the Affordable Care Act, most private insurance plans must cover preventive services with an "A" or "B" recommendation from the USPSTF without copays or deductibles. This means that at least one PrEP option will be available at no cost to qualifying individuals on these plans. 
PrEP's 2019 Grade A recommendation from the USPSTF was implemented this year. Below, we explain more about the Task Force's recommendation and what it means for your access to PrEP.
The Importance of Preventive Services and the USPSTF
Preventive care — including medications like PrEP, cancer screenings, immunizations, and more — saves lives. These services can prevent serious diseases or detect them early on, when they are more treatable. It's critical that doctors understand the effectiveness of these screenings and treatments, and the US Preventive Services Task Force was created to fill that need.
The USPSTF is an independent group of prevention experts whose evidence-based evaluations help healthcare providers make informed recommendations for their patients. The Task Force's membership has expertise in a range of specialties under the umbrella of primary care and preventive medicine, including internal medicine, behavioral health, obstetrics and gynecology, and more. They assign each recommendation an A, B, C, or D grade or an I statement. Here's what each recommendation means:
"A" Recommendation: The USPSTF recommends the service. There is high certainty that the net benefit is substantial.
"B" Recommendation: The USPSTF recommends the service. There is high certainty that the net benefit is moderate or there is moderate certainty that the net benefit is moderate to substantial.
"C" Recommendation: Clinicians may provide this service to selected patients depending on individual circumstances. However, for most individuals without signs or symptoms there is likely to be only a small benefit from this service.
"D" Recommendation: The USPSTF recommends against the service. There is moderate or high certainty that the service has no net benefit or that the harms outweigh the benefits.
"I" Statement: The USPSTF concludes that the current evidence is insufficient to assess the balance of benefits and harms of the service. Evidence is lacking, of poor quality, or conflicting, and the balance of benefits and harms cannot be determined.
Since preventive services are recommended based on a person's level of risk for a specific disease or condition, there is variation in individual preventive needs. Your primary care provider will recommend screenings and medications depending upon factors like your family history, age, current health status, and more.
With PrEP, the "A" rating and related insurance coverage applies to individuals who are HIV-negative but at high risk of getting HIV from contracting the virus. That includes:
People whose partner is HIV-positive or unsure of their HIV status
People who have multiple partners
People who use intravenous drugs
The Affordable Care Act and USPSTF Recommendations
Millions of people in the US don't receive critical, and often life-saving, preventive services. For many, cost is a big barrier. A 2020 study found that 1 in 3 US families postponed medical care services because of the financial strain. And according to the American Journal of Public Health, in the case of PrEP, fewer than 10% of people who could benefit from the medication are taking it.
The Affordable Care Act provision requiring private insurers to cover Grade "A" and "B" preventive services without copays or deductibles was designed to alleviate this financial burden. The Center for Consumer Information and Insurance Oversight (CCIIO) oversees the implementation of law provisions related to private health insurance, and private insurers have a responsibility to monitor USPSTF recommendations and remain compliant with requirements.
While the new provision is a big step forward for HIV prevention, getting the specific brand of PrEP medication you need may require some additional legwork.
There are several FDA-approved medication options for PrEP: Truvada®, Descovy®, and a generic for Truvada, which became available in October 2020. Truvada and Descovy are both effective at preventing HIV, but they are not identical. Some people may need one version over the other due to preexisting health issues. However, the ACA's provision only requires health plans to cover at least one of the available PrEP options without copays or deductibles.
Government plans including Medicaid typically cover brand-name PrEP medication while most private insurance companies will cover generic PrEP. If your doctor has prescribed a specific brand of PrEP medication not covered by your insurance, a request for coverage may be required. 
This is called a prior authorization. Alto's dedicated support team can help you understand the details of your insurance plan and will coordinate closely with your doctor's office on filing prior authorizations to help you get the medication you need. Call us directly at 1-800-874-5881 to confirm coverage.
Financial Assistance for PrEP
Too often, preventive services are inaccessible to those without insurance. Thankfully, patient assistance programs for PrEP help make the medication more affordable for those who are uninsured. For example, Truvada's manufacturer, Gilead, has a Medical Assistance Program for people without insurance, in addition to a copay card for those with insurance.
Alto will automatically conduct a thorough price investigation to identify these potential sources of financial assistance and ensure you're getting the lowest possible price. We also carry a generic PrEP option that currently runs at $36.60 a month out of pocket.*
Read more about PrEP access and affordability.
Get the PrEP medication you need at the best possible price
Getting PrEP at the most affordable price shouldn't be a hassle. At Alto, our team will do the research for you and coordinate with your doctor's office and your insurance provider to ensure that you're receiving the best medication option. Our pharmacists have deep expertise in many clinical areas, including patients living with HIV, and those taking PrEP, PEP and HRT medications.
Specialty patient benefits include:
Benefits, PrEP, and PEP navigation
Adherence support with pharmacist lab reminders
Discrete, private packaging and free, same-day delivery
Med syncing support and in-app reminders to stay on track
Pharmacists directly available through phone or within the Alto app
We're hard at work the moment we receive your prescription, handling insurance and prior authorizations, as well as making sure you get your medicine, at the best price, delivered at no additional cost. Reach out any time to get started via phone at 1-800-874-5881 or in-app messaging.
*Prices subject to change.
This content is not intended to be a substitute for professional medical advice, diagnosis, or treatment. Always seek the advice of your physician or another qualified health provider with any questions you may have regarding a medical condition.
All third party trademarks (including logos and icons) referenced by Alto Pharmacy remain the property of their respective owners. Unless specifically identified as such, Alto's use of third party trademarks does not indicate any relationship, sponsorship or endorsement between Alto and the owners of these trademarks.