What the COVID-19 Vaccine Means for Those With HIV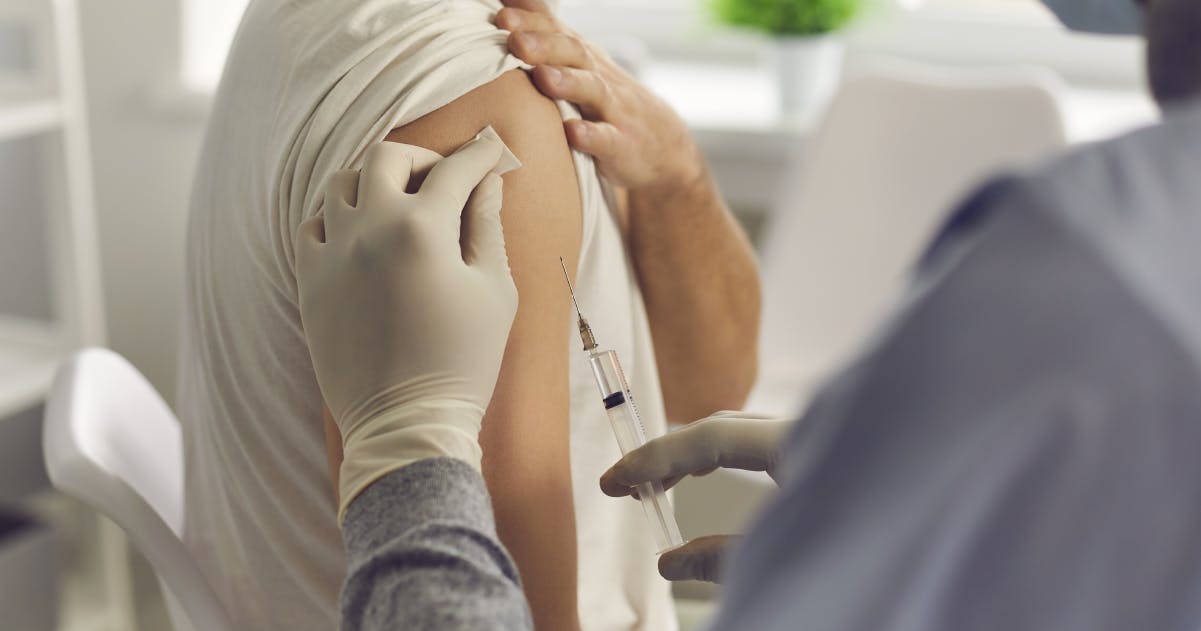 As of March, 2021, over 115 million people worldwide have been diagnosed with COVID-19. As the COVID-19 pandemic persists, many are wondering what the COVID-19 vaccine could mean for the 38 million people who are living with HIV: is it safe or does it pose a greater risk for these individuals? Here's what we know so far about the risk of COVID-19 for people with HIV, vaccine safety, and how to protect yourself from contracting COVID-19. 
Are people living with HIV at a higher risk for COVID-19? 
Data is limited and experts are still learning exactly how COVID-19 affects those with HIV, but the Centers for Disease Control and Prevention (CDC) says that those who have HIV (and who are also on effective HIV treatment) generally have the same risk of contracting the virus as those who don't have HIV.
So, who is at greater risk? The CDC has evidence that shows older adults and people with certain underlying medical conditions like chronic obstructive pulmonary disease (COPD), type 2 diabetes, and a weakened immune system are at an increased risk for more severe cases of COVID-19. And since nearly half of those living with HIV in the United States are over 50 years old, those living with HIV are encouraged to follow all CDC guidelines to reduce the risk of COVID-19 exposure.
Experts have not found any significant evidence that those living with HIV will experience more severe COVID-19 outcomes; studies performed in Spain and in the United States on a Veterans aging cohort both found no difference in susceptibility to the virus in those with HIV.
Are COVID-19 vaccines safe for people living with HIV?
Yes. According to the United Nations Program on HIV/AIDS (UNAIDS), the COVID-19 vaccines currently being developed or approved by regulators are believed to be safe for most people, including those living with HIV. The COVID-19 vaccines, like other vaccines, undergo the same safety tests and are required to meet rigorous standards. 
Regulators have not yet found any evidence that people living with HIV are at a greater risk from the COVID-19 vaccine in terms of side effects than anyone else.
How does the vaccine work and what symptoms could I expect?
In a recent virtual town hall on COVID-19 and HIV hosted by Getting to Zero San Francisco, experts confirmed that the COVID-19 vaccine has been proven to help reduce the severity of illness from the virus. The vaccine could also prevent infection, reduce transmission, and lead to healthier communities. 
The COVID-19 vaccines work by helping our bodies develop immunity to the virus that causes COVID-19 without us having to actually contract the illness. The different vaccines work in slightly different ways to protect us, but all generally leave the body with a supply of cells that remember how to fight the virus in the future.
After receiving the COVID-19 vaccine, the process of building immunity can result in some people experiencing mild symptoms like a sore arm and mild fever or chills in the days following vaccination. If you have any pain or discomfort, you can talk to your doctor or pharmacist about over-the-counter medications.
How can people with HIV protect themselves from COVID-19?
As you've likely heard, the best way to keep from getting sick is simply to avoid exposure to the virus. Everyone, including people living with HIV, should keep taking everyday actions like wearing a mask, staying six feet away from those who don't live with you, and avoiding crowds, to help avoid contracting and spreading COVID-19.
If you have HIV and are taking your HIV medicine, it's important to continue doing so and follow any advice from your healthcare provider. This will help keep your immune system healthy and ready to fight off any infection. The CDC also recommends lifestyle practices like eating healthy foods, getting at least eight hours of sleep per night, and minimizing stress as much as you can.
If you develop any symptoms that indicate you might have COVID-19, the CDC recommends calling your healthcare provider and getting tested. Most people have mild illness and can recover at home. If you do develop severe symptoms, the CDC recommends you get emergency medical care immediately.
We're here for you
At Alto, we're committed to ensuring you receive you medications safely and on time throughout the COVID-19 pandemic. Our pharmacy locations are fully stocked and our pharmacists are on hand to answer any questions and provide ongoing access to support and advice. Reach out to our HIV specialty team through secure in-app messaging or phone at 1-800-874-5881.
This content is not intended to be a substitute for professional medical advice, diagnosis, or treatment. Always seek the advice of your physician or another qualified health provider with any questions you may have regarding a medical condition.