What to Consider When Selecting a Fertility Pharmacy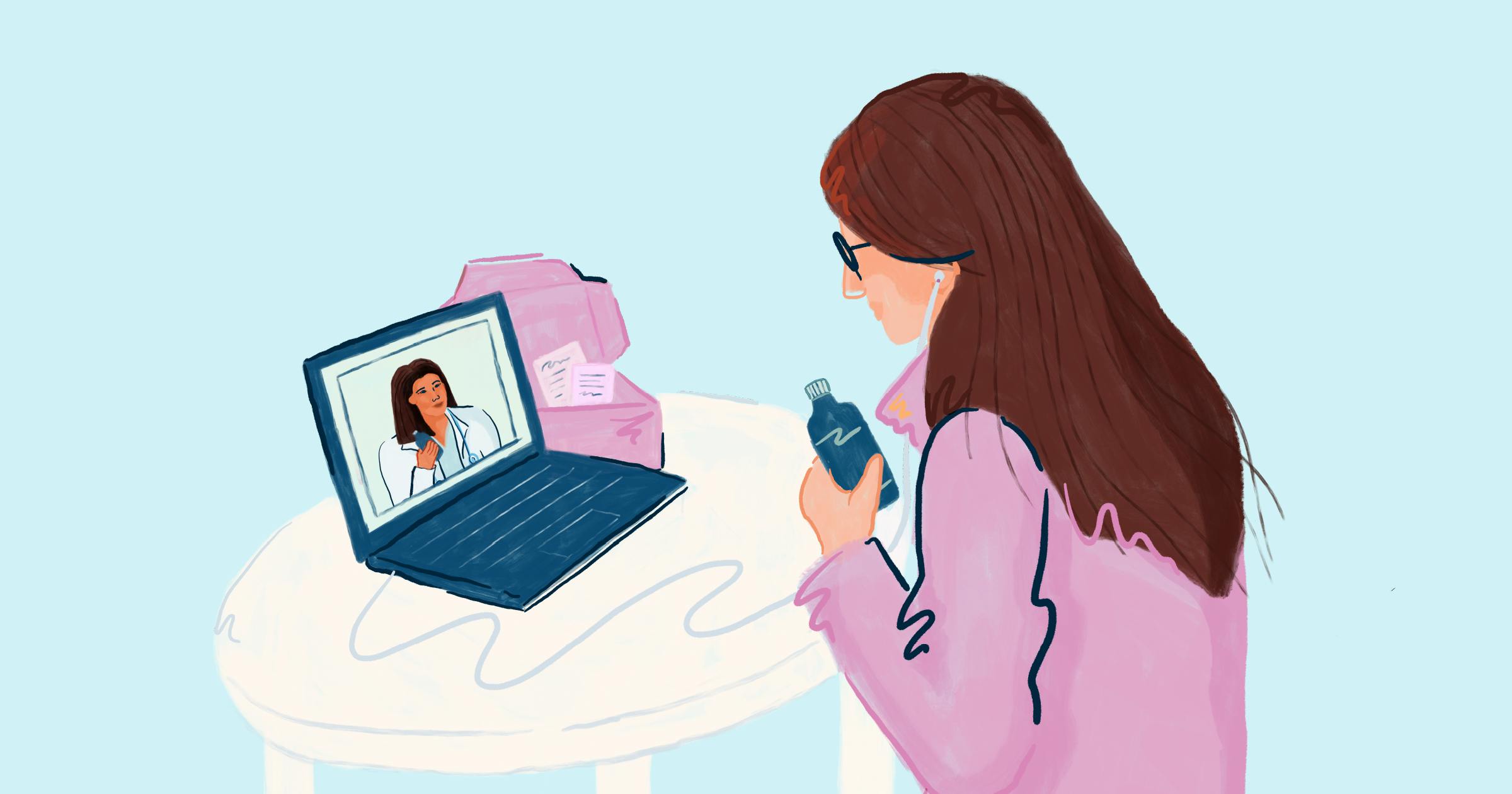 The reliability of your pharmacy is especially important during fertility treatment, which involves an intensive and often changing medication protocol. Late deliveries of your fertility medications are more than an inconvenience — they can impact the effectiveness of your treatment. And medication delivery is only part of a pharmacy's role in your fertility journey: your fertility pharmacy partner can also affect the emotional and financial aspects of fertility treatment depending on their resources and the accessibility of pharmacists.
Just as it's important to do your research on fertility clinics and make sure you've found the right fit, give yourself time to make an informed decision about which pharmacy you use. Here are the key factors to consider as you explore your fertility pharmacy options.
The importance of your fertility pharmacy partner
It can be overwhelming to navigate your medication protocol while undergoing fertility treatments like in vitro fertilization (IVF) or egg freezing. You will take a variety of medications for either process, with specific medications and doses based on your hormone levels. Your medications and doses are based on your hormone levels. That means that not only is there variation in individual medication protocols, your specific protocol can change throughout the process even after you start your injections. For this reason, same-day delivery isn't simply a nice-to-have in a pharmacy partner — it's a must.
A fertility medication protocol involves more than the medications themselves. Fertility medications are often injected in the evenings but can also be divided into morning and evening injections, usually within a designated window of time. Some of these medications require a mixing needle, an injection needle, and a syringe for administration. If a pharmacy does not include the correct supplies with your medications, it can potentially lead to a missed dose. In addition, packaging of fertility medications is extremely important, as the medications can lose their efficacy if they aren't shipped or stored at the proper temperature.
Lastly, medication expenses factor significantly into the total cost of your fertility treatment. You may be surprised to learn how much your choice of pharmacy can help you manage the financial components of treatment. At Alto, we work directly with your insurance (if applicable) and third party savings programs so that you can get your fertility medications at the lowest possible price.
Learn more about fertility medications and their sequence in a typical IVF or egg freezing timeline.
How to choose a fertility pharmacy
At a minimum, a credible and experienced fertility pharmacy will guarantee the following:
An expert team of fertility-trained pharmacists who have experience with the medications and dosing unique to fertility treatments.
Temperature controlled packaging to ensure that your fertility medications arrive in good condition.
Delivery of all the supplies needed for each injection, including alcohol swabs and a sharps container.
Here are five additional factors to consider when selecting a pharmacy partner. 
1. Accessibility and responsiveness
It's understandable to have many questions for your pharmacy during fertility treatment, from details about your insurance coverage to when your medications will arrive. It's important to consider which communication channels a pharmacy offers — phone, text, email, mobile app — and average response times and hours of operation. Pharmacies with weekend and evening availability will be best equipped to provide support when you actually need it. Alto is open seven days a week, and our team is available to answer any questions until 12 pm midnight ET on weeknights.
2. Financial assistance
It can be difficult to understand just how much you'll need to spend on fertility medications given the complexities of fertility benefits. A good fertility pharmacy will work with leading fertility lenders and can apply manufacturer discount programs if asked. A great fertility pharmacy will proactively connect you with financial assistance programs for qualifying prescriptions. Alto makes your medications as affordable as possible by automatically applying any savings and connecting you with outside programs that may require an application.
3. Local, same-day delivery
Last-minute changes to your medication protocol are not uncommon during fertility treatment. You can avoid a lot of stress during these instances by choosing a local pharmacy that can guarantee fast same-day delivery. After all, the last thing you need is to worry about mail-order delays, lost shipments, or spend hours waiting in line at a pharmacy. At Alto, we offer free same-day delivery seven days a week, and you can choose the delivery window that's most convenient for your schedule.
4. Pharmacist support
How do I know if I'm administering an injection correctly? My clinic just changed my medications, what do I do? These are just a few of the medication-related questions that may arise throughout the course of fertility treatment. Make sure your pharmacy gives you access to fertility-trained pharmacists who can provide the answers you need — including during nights and weekends! If you choose Alto as your fertility pharmacy partner, you'll have direct access to fertility-trained pharmacists who are here to guide you through your injections.
5. Community reviews
You probably read reviews of the physicians at your fertility clinic before selecting it. There's no reason not to do the same for your pharmacy partner. Look for patient testimonials on Yelp, Facebook, and other feedback platforms. Keep an eye out for reviews or posts that specifically mention the pharmacy's fertility services. Hear for yourself from satisfied Alto customers.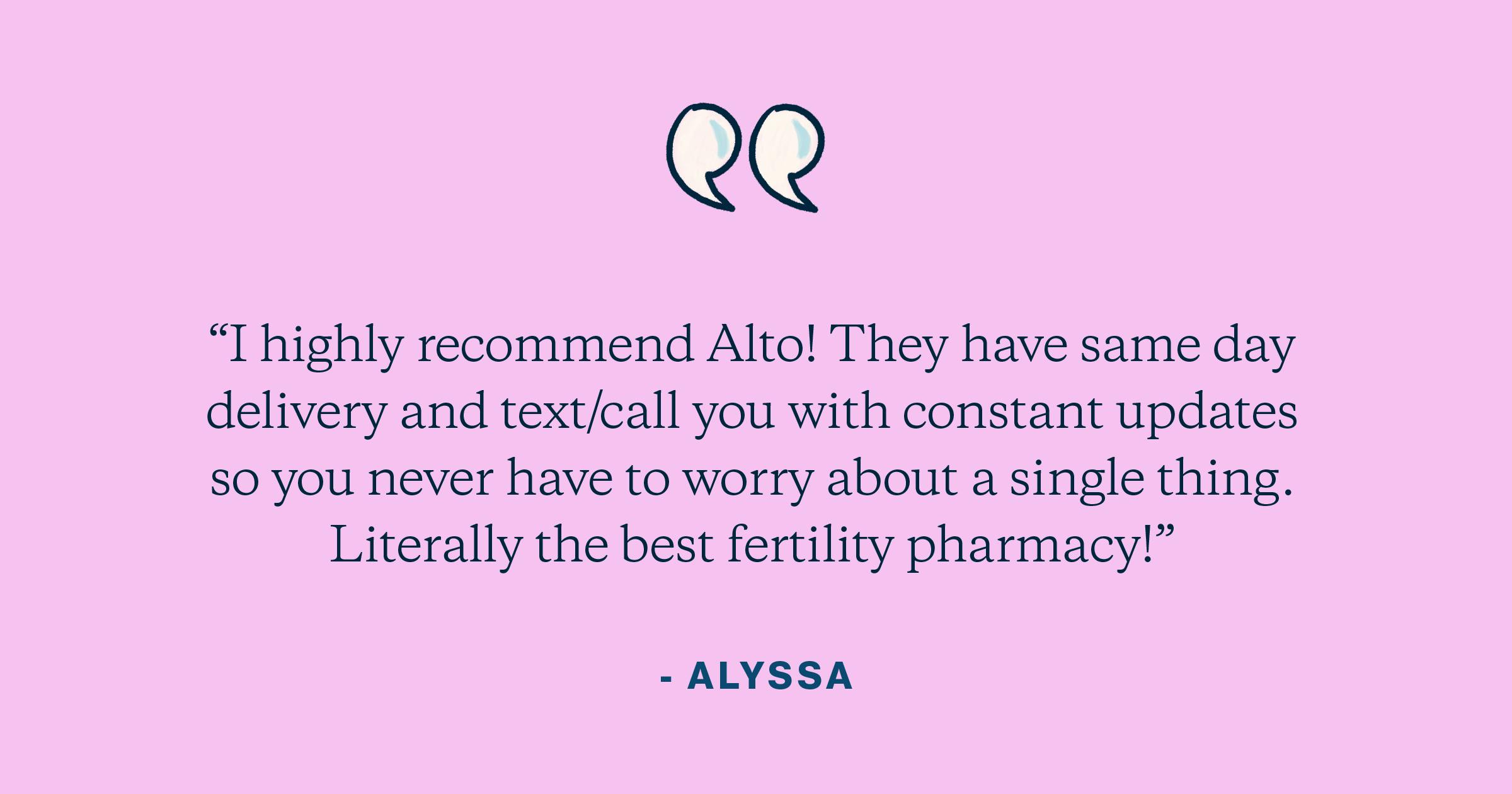 What to expect with Alto 
Since 2016, Alto has supported more than 50,000 patients through their fertility journeys, and several team members have gone through the process themselves. We understand that fertility treatment is a significant investment — physically, emotionally, and financially. We're committed to removing stress from the fertility journey wherever we can, and to ensuring that you have a supportive pharmacy partner by your side at every step of the way. Here's what to expect when you choose Alto as your fertility pharmacy.
Free, same-day delivery
As an Alto customer, you won't have to worry if your fertility medications change at the last minute after a doctor's appointment. We offer free, same-day delivery seven days a week, which eliminates stress and minimizes wasted medication. And once your delivery is scheduled, you'll be able to see where your courier is and get text updates on their ETA, so there's no worrying about when your medications will arrive.
Discreet, temperature controlled packaging
We know how important it is that your medications arrive on time, every time, and in the right condition. We ensure that refrigerated medications are held at the right temperature while in transit with temperature controlled packaging, and we add stickers so that you know to put them somewhere cold at home, too. Our packaging was also designed with discretion in mind to ensure privacy.
Learn more about how we simplify the fertility medication unboxing process.
Personalized fertility medication injection guides
You don't have to administer your first injections on your own. In our injection guide videos, fertility-trained pharmacists share all of the information you need to feel confident during this part of your fertility journey. Even better, each customer can find a unique playlist with videos tailored to their medication protocol in our mobile app.
One-on-one consultations with pharmacists
There's no substitute for one-on-one time with an experienced pharmacist, and we ensure that you'll have direct access to a pharmacist familiar with your medication protocol seven days a week. Our pharmacists are even available until 9 pm PST (12 midnight ET) on weeknights, which means an expert can stay on the phone with you as you take your injections.
To learn more about how we can support your fertility treatment, reach out by phone at 1-800-874-5881 or in-app messaging. You can also request a price quote online.
Editor's Note: This post was originally published in September 2020 and has been updated for accuracy and completeness.

This content is not intended to be a substitute for professional medical advice, diagnosis, or treatment. Always seek the advice of your physician or another qualified health provider with any questions you may have regarding a medical condition.